Political News
'Completely unhinged': Devin Nunes and Jim Jordan try to blame Nancy Pelosi for the Capitol attack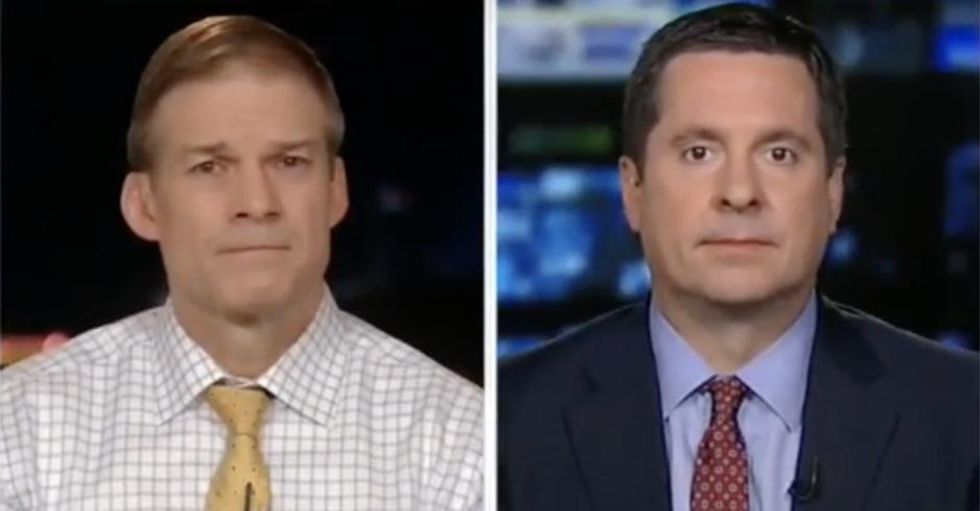 Four Republican members of Congress, including Ohio's Jim Jordan and California's Devin Nunes, on Presidents' Day sent Speaker of the House Nancy Pelosi a three-page letter effectively blaming her for the deadly January 6 insurrection, urging her to end "this political charade."
The sum of their letter, that the speaker – and not then-President Donald Trump – is responsible for the events of January 6 flies in the face of a mountain of facts, including those presented during last week's impeachment trial. Senate Minority Leader Mitch McConnell publicly agreed with at least seven other Republicans, 48 Democrats, and 2 independents, that Trump was responsible for the deadly riot.
Jordan and Nunes have been among Trump's most ardent supporters. Trump awarded both Congressmen the Presidential Medal of Freedom.
Pelosi on Monday announced she is forming a 9/11 style congressional commission to "investigate and report on the facts and causes" of the January 6 insurrection.
The "political charade" remark was co-opted from a speech Pelosi gave after the November election, urging Republicans to admit defeat and end their "political charade."
Pelosi's spokesperson Drew Hammill issued a response to the Jordan-Nunes letter:
"Clearly, these Members are trying to deflect responsibility for the Capitol attack from Donald Trump," Hammill told Forbes. "We look forward to these Ranking Members asking these same questions of former Senate Majority Leader Mitch McConnell."
Here's the Jordan-Nunes letter, followed by a few reactions from political experts:
The attempt to blame Pelosi started last week:
Source: 'Completely unhinged': Devin Nunes and Jim Jordan try to blame Nancy Pelosi for the Capitol attack